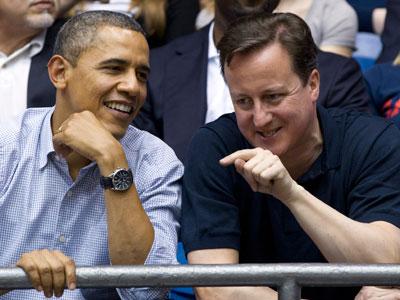 Prime Minister David Cameron and President Barack Obama, who met recently in Washington, have both taken the opportunity of the run-up to Easter to talk about their Christian faith, including their position on the Resurrection.
Gillan Scott gives the text of David Cameron's Easter message at a reception for Christian leaders. Gillan highlights some positive points in this message. Like Phil Groom in a comment, I am far from convinced that Cameron is really signalling a change of policy on gay marriage; rather, I would suggest, by insisting that the government proposals are only about civil marriage, he is asking Christians to choose different battles to fight.
But the main point I want to make here is not about gay marriage at all, but about Cameron's Christian faith, or lack of it. Last year I wrote about how seriously he misunderstands the Bible, as centrally "about leading good lives and helping each other as best we can". This week's message shows all the more clearly how little true faith he has:
… actually, really, Easter in many ways is the one that counts. Even those of us who sometimes struggle with some parts of the message – the idea of resurrection, of a living God, of someone who's still with us – is fantastically important even if you sometimes, as I do, struggle over some of the details.
So what Cameron seems to be saying, in somewhat confused words that are surely his own and not a speech writer's, is that he doesn't really believe in the Resurrection or in a living God who is still with us. For him, it seems, Christianity is merely "about leading good lives and helping each other as best we can". But that is not Christian faith at all; it is no more than what the best of atheistic and deistic philosophers thought. Indeed, if Cameron doesn't even believe in a living God, he really should call himself a deist or an agnostic, and make no claim to be a Christian.
So it came as a pleasant contrast to read these words spoken today by Barack Obama, quoted by Joel Watts from a speech at the White House Easter Prayer Service:
It is only because Jesus conquered His own anguish, conquered His fear, that we're able to celebrate the resurrection. It's only because He endured unimaginable pain that wracked His body and bore the sins of the world that burdened His soul that we are able to proclaim, 'He is Risen!'
These are the words of a true Christian. Mr Cameron, will you be able to join Mr Obama this Sunday in proclaiming, with genuine faith, "He is risen!"?