As the Guardian reports, the Prime Minister, David Cameron, has contributed to the People's Bible project, a copy of the King James Version handwritten by celebrities and ordinary people. Thanks for the link to David Keen on Twitter.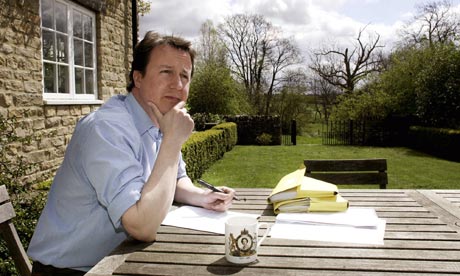 Apparently the PM ignored his office's suggestions and chose his own verses to write. And this was his choice:
Finally, brethren, whatsoever things are true, whatsoever things are honest, whatsoever things are just, whatsoever things are pure, whatsoever things are lovely, whatsoever things are of good report; if there be any virtue, and if there be any praise, think on these things. 9Those things, which ye have both learned, and received, and heard, and seen in me, do: and the God of peace shall be with you.

Philippians 4:8-9 (KJV)
Now these are good sentiments for a top politician, who should hopefully not just "think on these things" but also put them into practice. But I am concerned by the following words, a spokesman's explanation of Cameron's choices:
The reason he chose those verses is because he's always liked them.

They contain the central message of the Bible about leading good lives and helping each other as best we can. There is no hidden meaning and I wouldn't read between the lines.
No, Mr Cameron, that is not the central message of the Bible. So if this is really the whole reason why you chose these verses, then you clearly don't have much understanding of the Scriptures.
This morning I read this on Google+:
To most Christians, the bible is like a software license. Nobody actually reads it. They just scroll to the bottom and click "I agree."
It seems as if, apart from a few favourite verses, that is what the Bible is to David Cameron. Without a firm scriptural foundation it is no wonder that his Christian faith, in his own words, "sort of comes and goes".
But if Bible believing Christians keep out of politics, from fear of "dominionism" or compromise, then of course we can't expect any better of those do who find their way into high office.