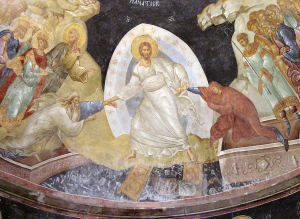 The Irish theologian John Dominic Crossan is not one I would normally read or agree with. But for Easter last year he wrote an article which makes an important point for the Huffington Post, The Communal Resurrection of Jesus.
In this article Crossan contrasts the Western and Eastern Christian understandings of the Resurrection, as depicted in their works of art. He starts with a depiction of the Resurrection which he saw at its traditional site, the Church of the Holy Sepulchre in Jerusalem:
That image does not show Jesus arising in splendid triumph from an opened tomb. This is not — even in miniature — a Titian or a Rubens with Jesus emerging in muscular majesty. But emerging, however majestically, in magnificent and lonely isolation. Instead, four other individuals are with him in this parabolic vision. …

… But is not Easter about the absolutely unique resurrection of Jesus alone, so why are any others involved and, if others, why precisely these others? The answer reveals a major difference between Easter Sunday as imagined and celebrated in Eastern Christianity as opposed to Western Christianity. It also reveals for me the latter's greatest theological loss from that fatal split in the middle of the eleventh century.
Crossan doesn't properly explain this theological loss – and if he did, I might not agree with him, as he is reported as rejecting the bodily Resurrection of Jesus. But he is clearly hinting that the Western tradition has lost sight of the communal aspects of the Resurrection. As the Eastern tradition correctly remembers, Jesus did not rise from the dead alone, but he raised to life with himself all those who believe in him, right back to Adam and Eve.
This of course ties up with the odd story of the resurrection of the Old Testament saints in Matthew 27:51-53, which I discussed yesterday in my post When did Jesus come back to life?
What does this mean for us, as believers in Jesus? As the Apostle Paul wrote:
… we were by nature deserving of wrath. 4 But because of his great love for us, God, who is rich in mercy, 5 made us alive with Christ even when we were dead in transgressions—it is by grace you have been saved. 6 And God raised us up with Christ and seated us with him in the heavenly realms in Christ Jesus, …

Ephesians 2:3-6 (NIV)
So, when Jesus rose from the dead he raised with himself not only the Old Testament saints but also, in anticipation, all of us New Testament believers. We may not yet have our Resurrection bodies, but we already have within us the Resurrection life of Jesus. The time is past when "we were by nature deserving of wrath". Now we are alive and seated with Christ in the heavenly realms. We must not forget that, but live according to that truth.