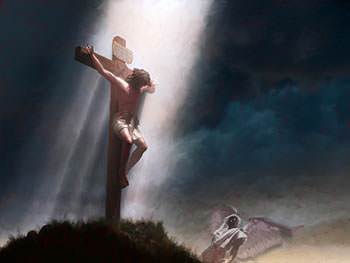 From Destroy the Devil's Work, a post by Jeremy Myers:
Jesus certainly did come to destroy the devil's work, but His route for doing so was not conventional. Or at least, it was not the way any human would seek to do it. He did not rain down fire and death from the skies. He did not raise up an army and march off to war. He did not call on political leaders and those with money, power, and prominence to exert their influence and bring about change.

No, Jesus destroyed the devil's works by doing the exact opposite things of the devil. He loved the unlovable. He forgave the worst of sinners. He healed the chronically sick. He fed the hungry. He empowered the weak. He extended grace to those who showed none. He was patient with repeat offenders. He did not seek to control. He never sought to enslave. He always refused to punish or condemn.
Amen!