Eric McLellan asks, in a guest post at Kurt Willems' Pangea Blog, What does science tell us about our soul? He writes:
the study of quantum mechanics has … led John Conway and Simon Kochen to develop what they call the Free Will Theorem. Assuming three axioms … The Free Will Theorem is a proof that states, in simple terms, that if human individuals have free will, then individual subatomic particles also have free will. Particles don't make conscious decisions, but they exhibit a quantum measure of choice. … The nature of the choice made by these particles is not a masked randomness but is actually the result of a subatomic free will.
This has some profound implications, according to McLellan.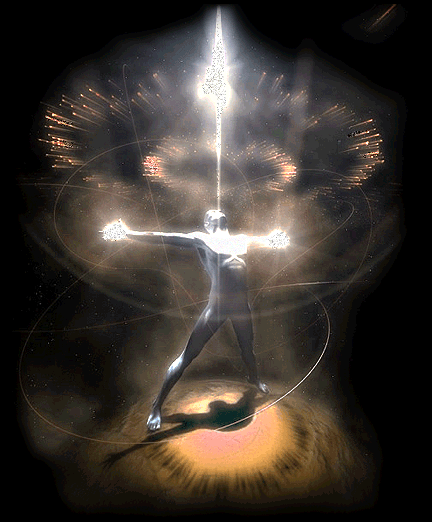 The first set of implications, for "theological anthropology", is that the soul, the part of the person which exercises free will, cannot be separated from the material body:
the aspects of the mind often attributed to the soul is actually an extension of the material body. Mind and body become one while the soul must represent a higher faculty which relates to God and is brought to life in conversion.
A second set of implications is for God's work in nature. The Free Will Theorem undermines the presupposition that
in order for God to actively will a change in the universe, He must then break the laws of nature.
The theorem implies that
the uncertainty of quantum mechanics leaves room for God's work in natural processes. … The choice made by individual particles could just as easily be God's choice. God has the freedom to sovereignly rule over the universe without ever breaking the laws of nature.
This ties up well with what I was hinting at at the end of my previous post today, Can "creation science" prove evolution?, when I suggested that evolution "was designed by God to carry out his purposes". According to "intelligent design", which I reject, God has intervened repeatedly over billions of years, breaking the laws of nature, to create new species. But according to the better versions of "theistic evolution", which I accept, God has caused new species to come into being while "sovereignly rul[ing] over the universe without ever breaking the laws of nature".
Now I would have serious reservations about allowing a scientific result like the Free Will Theorem to control my theology. There are also some debatable axioms or presuppositions behind the theorem. But I find the theological implications here to be attractive. This is certainly a refreshing change from the arguments of atheists and materialists claiming that science has proved that nothing is real but the material world – arguments which have largely been invalidated by the last century of physical science. The Free Will Theorem deserves serious further consideration by Christian scholars.